Xtreme Lashes
Eyelash Extensions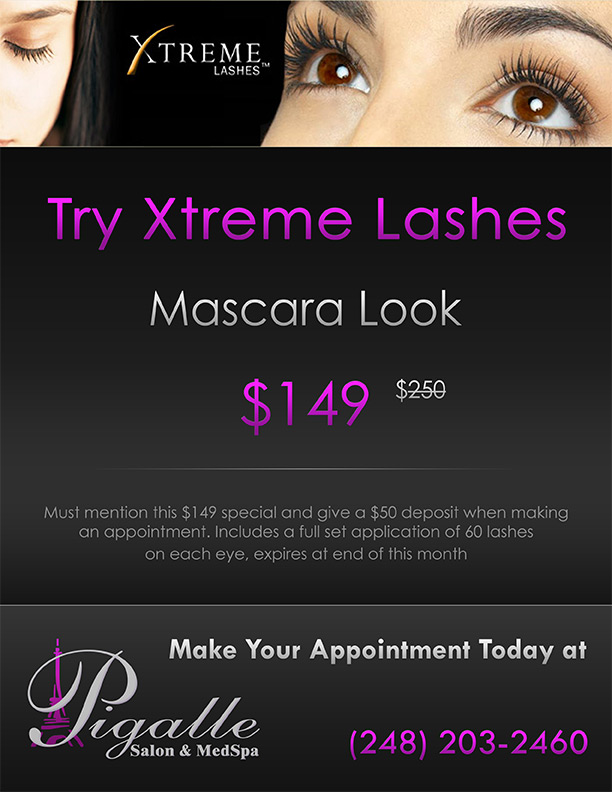 Xtreme Lashes Eyelash Extensions
Xtreme Lashes eyelash extensions will lengthen, thicken and give you most beautiful lashes available on the market today.
One lash at a time, single strands of synthetic eyelashes are applied to your individual eyelashes for a natural, elegant and luscious look.
Xtreme Lashes eyelash extensions last up to two months or forever with touch-ups.

Our Xtreme Lashes Look
We creatively design a unique, personalized set of lashes using a variety of lengths, thicknesses and colors to suit the shape of your eyes, tailored to suit your personality and lifestyle. We can also create more dramatic or glamorous lashes to your satisfaction.
A typical full set of eyelashes will have between 60 to 100 Xtreme Lashes eyelash extensions on each eye and will take anywhere from 1 to 2 hours to complete. Applied by certified Xtreme Lashes technicians at Pigalle Salon & MedSpa

Benefits of Xtreme Lashes Eyelash Extensions
Lengthens and adds fullness without the need for mascara
Semi-permanent eyelashes last indefinitely with touch ups
Saves time during your beauty regimen
Weightless and water resistant to swim, shower or exercise worry free
Look and feel gorgeous from the moment you wake up until the moment you fall asleep
Xtreme Lashes Looks & Prices
Mascara Look
Gives you a very natural, longer and more luscious set of eyelashes. Done it black or brown colors.
60 eyelashes per eye
1.5 hours | $200 – Limited Time* | $250
Glamour Look
Done in black eyelash extensions, highlighted with a splash of colored eyelash extensions
80+ eyelashes per eye
2 hours | $250 – Limited Time* | $300
Xtreme Look
Gives you a dramatic and stunning look with a choice of any color eyelash extensions
100+ eyelashes per eye
2.5 hours | $300 – Limited Time* | $350
New Application for Our Returning Lash Clients
$50 OFF the prices above
Preparing for Your Lash Appointment
Please remove any makeup from your eye area and avoid using eye cream to your appointment. If you wear contacts, please wear your glasses to your appointment.
Xtreme Lashes Fills & Touch-Ups
Our lashes grow on a cycle and shed every 45 – 90 days. We recommend to come every 2-3 weeks to maintain the length and thickness of your lash extensions. During this time a touch-up is needed to replace the lashes that have completed their lash cycle.
50% of initial application's lashes must still be on*
Mascara Look
Fills up to 60 lashes per eye
2-3 Weeks | $80+
Glamour Look
Fills up to 80 lashes per eye
2-3 Weeks | $100+
Xtreme Look
Fills up to 100 lashes per eye
2-3 Weeks | $120+
Additional Lashes
10 lashes per eye | $30
Eyelash Removal
30min | $25
Swarovski Eyelash Crystals
$5 per crystal
The Eyelash Extensions Procedure
The procedure will start with a consultation to design your customized lash look.
Then you will be laying comfortably in one of our beautiful spa rooms in total relaxation with your eyes closed. You may fall asleep and awaken to longer, thicker and more voluminous lashes.
During application, our stylist will individually bond one eyelash extension to one natural lash to create a seamless look and feel as if these eyelash extensions were your own.
We also use a proprietary line of Xtreme Lashes Adhesives to adhere the Xtreme Lashes Eyelash Extensions safely to your natural lashes.
Xtreme Lashes Care & Maintenance
To maintain optimum appearance and extend the life of your lashes, follow these tips & easy care instructions
To allow the adhesive time to fully bond – do not expose your lashes to water or steam 24 hours after application. For best results, we recommend avoiding swimming and the spa for 48 hours after lash application.
Apply Protective Coating (available at Pigalle Salon & MedSpa) once or twice per week on your new lashes to preserve the look and extend the life of your Xtreme Lashes Lash Extensions. Brush on from the base up to the tips. This coating also gives the lashes a wonderful shine!
Be gentle with your eyelashes and do not pull on the extensions or rub the eyes excessively.
Avoid the use of oil-based products on or around the eyelashes and do not use waterproof mascara. Water-based mascara and mascara remover may be used if desired. Apply the mascara sparingly and remove it gently with a water-based eye makeup remover. Both available at Pigalle Salon & MedSpa
Do not use a traditional eyelash curler, as this may damage the bond of the adhesive. You may use a heated eyelash curler designed for Xtreme Lashes, also available at Pigalle Salon & MedSpa for purchase.
FAQ's About Xtreme Lashes Eyelash Extensions
Can I swim, shower, exercise, or visit a spa while wearing Xtreme Lashes Lash Extensions?
You can enjoy these eyelashes with little need to adjust your lifestyle. Provided you follow the simple after care instructions and are not excessively exposed to heart or moisture, they will last through the natural lash life cycle and fall off with the natural lash, not before. You can swim, shower and spa as usual so long as these activities are not engaged in excessively. (Please do not swim or spa for 48 hours after the procedure to allow the adhesive to fully bond.)
A competitive swimmer who is constantly in the chlorinated water may lose some lashes earlier than the average person as may someone who gets very frequent facials (weekly) or goes into the steam room daily. Doing an above average level of activities related to heat or constant water exposure may weaken the adhesive bond, causing some early lash extension loss.
Do I need to use any special products on my Xtreme Lashes Lash Extensions?
There are no products that are required to be applied to the lashes. Optionally, you can use Xtreme Protective Coating®, which acts as a sealer on the adhesive, creating an even stronger bond to the natural lash. It can be applied one to two times per week on the lashes to enhance the strength of Xtreme Lashes® Lash Extensions. Xtreme Lashes® Lash Extensions especially recommends this product to those clients with oily skin or those who do not carefully maintain their lashes.
If you choose to wear mascara we recommend using one of the Xtreme Lashes® Lash Extensions water-based mascaras and Xtreme Lashes® Lash Extensions Eye Makeup Remover , specially formulated for Lash Extensions. Apply mascara on the tips only. Additional curl can be safely added to the lashes with an Xtreme Lashes® Lash Extensions Heated Eyelash Curler. All products are available at Pigalle Salon & MedSpa.
Can I apply mascara to Xtreme Lashes Lash Extensions?
Indeed, one of the main advantages of Xtreme Lashes Lash Extensions is that you never need mascara again. However, if you must have the mascara-look, only water-based mascara can be used. You can purchase water-based mascara at Pigalle Salon & MedSpa.
How often should I get touch-ups?
A natural eyelash typically sheds every 60 to 90 days and is replaced with the growth of a new eyelash. Since Xtreme Lashes® Lash Extensions are applied one by one to each individual hair, after 2-4 weeks, approximately 1/3 of the lashes will have cycled out. At this point, touch-ups are required to replace the lashes that have completed their life cycle. Touch-ups generally take a short time and are relatively inexpensive.
What do I do if I want them removed?
As the natural lashes cycle out and shed, Xtreme Lashes Lash Extensions will shed with them. However, if necessary, Xtreme Lashes Lash Extensions can be professionally removed by Pigalle Salon & MedSpa Lash Stylist using specially formulated adhesive remover. The removal process normally takes approximately 15 to 30 minutes for a full set. Never try to remove Lash Extensions on your own. Damage can be caused by pulling the extensions off with the natural lashes which removes the natural lashes before it is ready to shed
For more information visit Xtreme Lashes website.
Xtreme Lashes Gallery
Before & After Looks
The service I received for lash extensions was great! They are thick, dark and beautiful. I dont wear masscara unless its close to getting a touch up. Also they are very natual looking.
Schedule Your Appointment