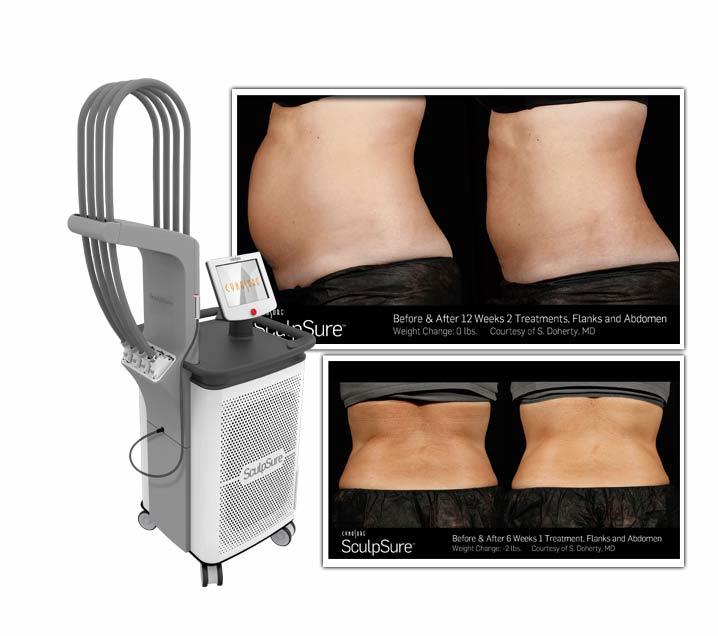 SculpSure Body Contouring
Results may vary
SculpSure Laser Fat Reduction
SculpSure is a breakthrough in light-based body contouring designed to reduce stubborn fat in problem areas such as the abdomen and love handles, helping you achieve a slimmer and natural looking appearance without surgery or downtime.
Benefits
Quick 25 Minute Treatment!
No Downtime – Resume Activities Immediately
Tightens & Firms Skin
No Pain or Burns
Frequently Asked Questions
IS SCULPSURE RIGHT FOR ME?
SculpSure is ideal for people with stubborn areas of fat, particularly those that seem resistant to diet and exercise.
HOW MANY TREATMENTS WILL I NEED?
Every patient is different. Most patients see the best results when they have a series of treatments. Ask your treatment provider about the treatment plan that is right for you.
WHAT SHOULD I EXPECT DURING THE TREATMENT?
Most patients feel a tingling sensation intermittently throughout the treatment which is generally well tolerated.
HOW LONG BEFORE I CAN RESUME NORMAL ACTIVITIES?
There is no recovery period or downtime with SculpSure, so you can have the treatment and return to normal activities immediately.
Obtain the look you deserve with SculpSure, a state-of-the-art controlled light-based technology, ideal for those looking to get rid of stubborn fat. Pigalle Salon & Med Spa is one of the first clinics in the area to offer this revolutionary non-invasive laser treatment.
SculpSure treatment is a completely non-invasive laser procedure for getting rid of fat through the skin. Treatment can be completed in just 25 minutes, perfectly fitting into that busy schedule that has been holding you back from getting the body you deserve.
A SLIMMER, NATURAL-LOOKING APPEARANCE WITHOUT SURGERY OR DOWNTIME
SculpSure's body contouring technology targets and destroys the targeted fat cells safely within just 25 minutes with no recovery time following treatment, so you can resume your daily activities immediately. You Can Even Schedule your Appointment to Be Treated During Your Lunch Break and Complete the Rest of Your Day With no Problem.
Reduce Fat
This system can target multiple areas during a single procedure. Customizable to meet any individual's needs. SculpSure can destroy up to 24% of subcutaneous fat that is eliminated over time through the body's lymphatic system.
Improvement can be seen in as little as 6 weeks with optimal outcomes seen in 12 weeks.
*Results per individual may vary.