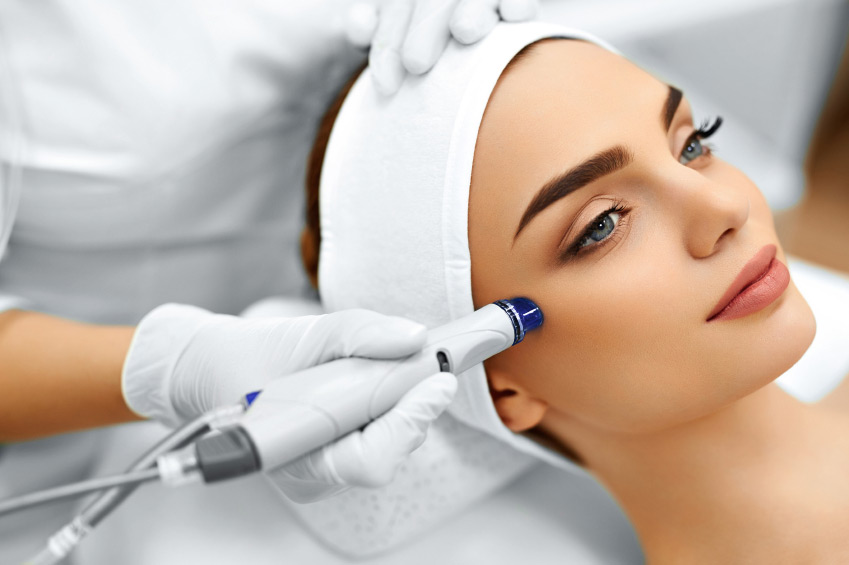 SKIN RESURFACING
Microdermabrasion
MegaPeel microdermabrasion is a painless, non-invasive skin resurfacing procedure that polishes the skin using a stream of fine crystals or diamond tip that exfoliate and remove the superficial layer of dry, dead skin cells.
This process makes way for a new, smoother layer of skin promoting new cell growth and collagen. It is effective in reducing fine lines, age spots, sun damage, uneven skin tone, pore size and acne scarring, on the face, back and hands.
May be combined with a chemical peel to enhance the results.
30 min | $75
Package of 3 | $150 (SAVE $75)
Rejuvenates sun-damaged skin
Reduces fine lines and wrinkles
Lightens age spots and uneven skin tone
Promotes new cell growth
Aids with the treatment of acne
Minimizes mild acne scarring and appearance of pores
Excellent for skin sensitive
Frequently Asked Questions
How does microdermebrasion work?
Microdermabrasion works by gently exfoliating with one of two methods and removing the superficial layer of dry, dead skin cells.
The vacuum action than helps to stimulate microcirculation and lymphatic flow, increasing the blood supply that provides nutrients needed for skin regeneration. This helps accelerate the skin's repair process and stimulates the formation of new collagen and elastin thereby improving skin texture and elasticity.
What are the abrasive particles used to exfoliate the skin?
Our MegaPeel microdermabrasion machine uses either aluminum oxide/salt crystals or the diamond tip – with no loose particles, as the tip of the wand is covered with encrusted natural diamond chips that exfoliate the skin.
How often can treatments be performed?
While we specialize in custom tailoring our client's individual skin care needs – there are immediate benefits after one microdermabrasion treatment, and for optimum results we recommend a series of 3 to 5 treatments.
How soon will the results be visible?
Results will be noticed immediately but because every individual's skin is different the visible improvements will vary.
Is microdermabrasion painful?
Our client's comfort is the top priority at Pigalle Salon & MedSpa. Microdermabrasion is not painful and requires no topical anesthesia.
What are the risks of microdermabrasion?
Not many risks are associated with microdermabrasion but we must consider those with skin or medical conditions. You should NOT have a microdermabrasion treatment if you have an undiagnosed lesion, recent herpes outbreak, warts, active weeping acne (stages 3-4), active rosacea, unstable diabetes, auto-immune system disorders, recent laser surgery, recent start of Retin A, chemical peel, or recent waxing services. If prone to hyperpigmentation please inform your take precautions in lowering pressures.
What preparations should be done before treatment?
Stop aggressive exfoliating products 24 hrs. prior to treatment, including the use of Retin A and Renova.
What to expect after microdermabrasion treatment?
A moisturizer and a sunscreen are applied to the skin prior to leaving. Some redness is expected after a treatment; however this is not likely to persist more than a few hours.
Avoid direct sun exposure for 7 days after a treatment. We stress the importance of using a high quality sun protectant as well as minimizing sun exposure. Exposure to UV radiation is one of the key factors in speeding the skin's aging process. Avoid AHA products and skin exfoliation scrubs for 72 hours after treatment. Make-up may be applied immediately after treatment, however you may wish to experience the clean fresh glow of your skin.