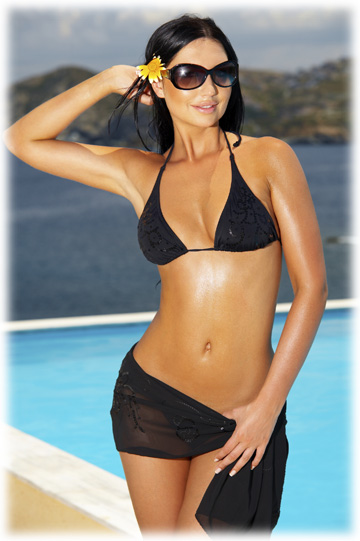 Airbrush Tanning
Airbrush tanning is the modern equivalent to sun or bed tanning. In just one, ten minute session, you can get a beautiful bronze tan with Aviva Labs – healthiest sunless tan products available on the market today.
We use a high speed, low pressure soft spray tanning system to get a superior tan with an even coverage. Tanning process then takes anywhere from two to eight hours to develop and can last on an average of five to ten days.
Benefits of Aviva Labs Sunless products
Natural-looking and long lasting
Fast drying & even fading
Water based & non sticky
Vegan – free of harsh dyes and chemicals
Oil, Alcohol, Fragrance Free
Hypoallergenic & Odorless
Doctor formulated with long term health in mind
Prices
Spray Tan
Full-Body | $45
Half-Body | $25
Dry time is 4-8 hours. Includes Aviva Labs sunless tanning solution and a customization of color.
Express Spray Tan
Full Body | $55
Dry time is significantly less, maximum of 3 hours. Less dry time if you wish to be a lighter shade.
Includes Express Aviva Labs sunless tanning solution and a customization of color.
Full Body Exfoliation with a Spray Tan
Full Body | $80
This treatment begins with a full body dry brushing, followed by a massage application of the Aviva Labs Exfoliant. The Exfoliant has special cleansers that gently wash away oils and build up, while polishing the skin. A shower and finally an application by Aviva Labs sunless tanning solution.
Packages
Spray Tan
3 Full Body Spray Tans | $99
(SAVE $36 | $33 each)
Preparation
Exfoliate your skin with a water based product before your appointment. Pay attention to rough or dry skin areas like knees, elbows, ankles and tops of your feet.
Any waxing or shaving should be done 24 hours prior to your appointment.
Wear dark, loose fitting, lightweight clothing to allow the skin to breathe and absorb the product at an even manner.
IMPORTANT: do not apply or wear deodorant, makeup, perfumes, body lotions or moisturizers or any other similar products to your session.
Aftercare
Wait at least 8 hours before your first shower, work out or getting your skin wet.
Use a Sodium Laureth Sulfate free body wash.
Pat, do not rub your skin after the shower.
Avoid long hot baths, chlorinated pools and spas.
Moisture daily for maximum color retention.
To maximize your tan please refrain from exfoliation or use of chemicals on your skin and especially your face. Hand wash or pat dry with a non-oil and non-alcohol based product.
FAQ's for Airbrush Tanning
Is sunless spray tanning safe?
Yes, it is. In 1973, the FDA approved Dihydroxyacetone (DHA), a sugar cane derivative that results in the tan. When applied to the skin, DHA penetrates only the top layer of the skin and does not absorb into the body or bloodstream.
How long will my sunless spray tan last?
An Aviva Labs sunless tan will usually last 5-10 days. To maximize the life of the tan, thoroughly exfoliate using Aviva Labs Exfoliant prior to application and moisturize generously with the Aviva Labs Moisturizing Crème each day after the application.
What is Customization of Color?
Color of the solution is customized (light, medium or dark) to fit your skin type. Several different solutions are also used to meet the needs of people with warm, cool and neutral skin tones.
How long does it take to see the results after the spray tan application?
With the Aviva Spray Tan Express, it will take between 2 and 6 hours depending on skin tone (darker tones take longer to develop).With Aviva Spray Tan, it will take between 6-8 hours.
Will spray tanning turn me "orange"?
No Way! Aviva labs sunless solution will work perfectly on any skin tone, giving a natural golden glow or a deep, dark tan depending on your skin tone and occasion. Aviva Labs Sunless Aftercare products will ensure your tan stays beautiful.
Will I break-out?
My skin is sensitive. This tan is incredibly gentle on the skin, as it is hypoallergenic, oil-free and alcohol-free. This is the right tan for the sensitive skin.
Is sunless tanning safe for pregnant women?
Aviva Labs' products, as well as other sunless tanning solutions, have not been tested on pregnant women. Please consult with your doctor for permission to do spray tanning applications.
Will spray tan protect me from getting a sunburn?
No! When going into the sun, you must wear sun protection. The only way spray tanning will help to protect your skin is that it will not be tempted to sun bake since it will be already tanned.
Will spray tan be even if I have hair on my legs or arms?
Hair is not a problem. At the end of the tanning cycle you will notice droplets of solution on your hair, just towel this excess of the solution off with a towel provided.
Why should I choose spray tanning over tanning beds?
Tanning beds use high intensity UVA light bulbs to increase the body's natural production of melanin. Melanin is the body's pigment that causes the skin to have that glowing tan. The problem with the UVA bulbs is that they deliver the UVA in a much higher dose than what is normally found by being outside in normal sunny conditions. The increased exposure to UVA can cause premature aging and an increased risk of skin cancers.