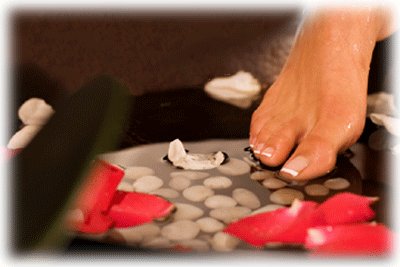 PEDICURE
Classic Pedicure
Enjoy the comfort of the massage chair while soaking tired feet in a sea salt whirlpool. The exfoliation of the legs and feet, the shaping of nails, cuticle treatment and callus removal, and a wonderful stress relieving massage leave feet and legs soft and smooth.
Your choice of polish tops off this service, leaving feet soft, well groomed and healthy.
60 Minutes | $50
Spa Pedicure
This luxurious treatment for your feet begins with a soothing soak in a warm bath with aromatherapy treatment oil. Heated paraffin softens and hydrates sore and tired feet. Also included are filing, cuticles and callous care, exfoliation, reflexology, massage and polish.
75 Minutes | $65
Express Pedicure
This condensed pedicure combines a warm foot soak, cuticle treatment, shaping of the nails and polish. Terrific for a quick fix between full pedicures.
30 Minutes | $35
Sport Pedicure for Men
This pedicure is especially designed for men. You'll start by emerging your feet in a warm whirlpool bath. After your nails have been trimmed and your cuticles cleaned, the technician will exfoliate your feet using sea salt and a special blend of essential oils. Calluses are then pumiced and smoothed away and the treatment is concluded with a reflexology massage of your lower legs and feet.
45 Minutes | $50
Shellac Pedicure | Gel Polish by CND
Like any quality polish application, the Shellac system features a Base Coat, Color Coat and Top Coat. Together with a UV Lamp, they comprise the breakthrough in resilient color that remains flawless for 2 weeks.
90 Minutes | $65
Benefits
14-Day Wear
No Nicks, Chips or Smudges
Zero Dry Time
Mirror Finish
Off in Minutes