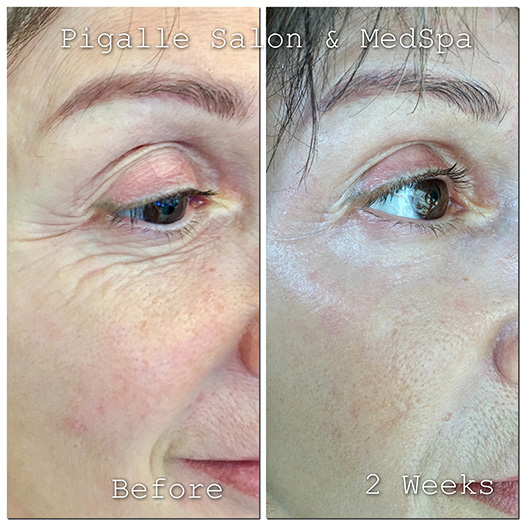 Plasma Fibroblast Lift Skin Tightening
Plasma Fibroblast Skin Tightening is a non-surgical, non-invasive treatment that contracts and tightens the skin, while stimulating new fibroblast cells that in turn produce more collagen.
Resulting in smooth, firm, lifted younger looking skin.
What does it treat?
crows feet
eyelid and eye bag correction
hooded eyes
worry lines
smile lines
nasolabial lines
wrinkles
marionette lines
saggy skin
stretch marks
scars rejuvenation
saggy neck/neck wrinkles
moles, warts, skin tags
all types of lifting
How long does it last?
Plasma Fibroblast Skin Tightening is more than a simple tightening treatment, skin is actually removed, so the effects should last as long as they would with invasive surgery.  Like all surgical and cosmetic procedures, the effects of plasma treatment are not entirely permanent as it does not stop any further aging. But, the positive results should last you years depending on the area treated.  The positive effects of treatment will be noticeable immediately after the first treatment, where best results will be seen after 4 weeks. For some, an additional treatment may be required after 6 weeks for maximum results.
Additionally, there are lifestyle factors that can prevent the result from lasting as long as they can, such as smoking, alcohol consumption, and prolonged sun exposure. Those planning on treatment should also be aware that their race and genetics can also have an impact on the length of beneficial results.
How many treatments do I need?
The number of treatments required will vary according to the condition being treated, skin's laxity, the desired degree of correction and the individual's response to the treatment. Most clients see results instantly, which continue to improve over the course of the following 8 weeks. Further treatments can be carried out to get better results, although it is uncommon to require more than two treatments.
Treatment After Effects
Plasma Fibroblast Skin Tightening has been known to be a safe treatment due to its non-invasive nature. There will be small dry spots that will form which are called carbon crusts. These will flake off typically between 5-7 days revealing new pink skin beneath.  Swelling in the eye area is to be expected for a few days following an upper eyelid treatment. Aftercare topicals will be provided to achieve optimal results.
Contraindications
clients should be in good health at the time of the appointment, with no preexisting health conditions. If the client displays signs of cold or flu the treatment should be rescheduled.
clients skin should not be inflamed in the area we are treating prior to procedure.
clients prone to keloid scars are not ideal candidates.
clients with diabetes, healing disorders or lymphatic draining issues should not undergo treatment.
clients with a sunburn/sun tan should postpone treatment.
clients must not display any tanning at the time of the treatment.
clients must not display Herpes Simplex Virus (Cold sores/Fever blisters). You will need to reschedule your appointment if you are experiencing an outbreak.  If you have experienced Herpes Simplex Virus (Cold sores/Fever blisters) in the past you must see your Medical Doctor and obtain a prescription for Valtrex and begin taking it 3 days before treatment and for 4 days following treatment. (This applies for treatments surrounding the lip area only)
not for clients with pace makers.
not for clients who are pregnant or breastfeeding.
clients with Eyelash extensions receiving upper or lower eyelid treatment must have lashes removed prior to treatment and reapplied after 8 weeks.